LeBeau's Honer™ is recommended by the following:
LeBeau's Honer™ is Recommended by the following Knife Manufacturers:
Alex Kolce™ World Class Swords
Anza Knives Hand Made Knives
Cold Steel Knife & Manufacturing, Co.
Dawson Knife Company,
Eagle Works Knives
Knives of Alaska Company
Idaho Knife Works Co.
Iron Mountain Knife Company
World Famous Murphy Combat Knife & Manufacturing
World Class Myerchin Marine Classic Knives & Manufacturing Company
All companies and product names are trademarks and/or registered trademarks of their respective companies.
LeBeau's Honer™ is Recommended by the following Custom Knife Makers:
(The late) Norm Levine, voting member of the "Knife Makers Guild"
(The late) Sonny Guiler Custom Knives
Anza Knives Hand Made Knives
Bud Tracy's Custom Knives, a Blade-smith
Cliff and Bonnie Pelke of Pelke Knives
Custom Knives by Alan Gerber
Custom Knives by Bob L. Brothers
Custom Knives by Curt Erickson
Custom Knives by Dave Kauffman
Custom Knives by Dave Murphy
Custom Knives by Dennis Zeller
Custom Knives by Don Norton
Custom Knives by Hayward
Custom Knives by Herb Goss
Custom Knives by Likarich
Custom Knives by Patten
Custom Knives by Rockey of Saddle Mountain
Custom Knives of Alaska
Dennis Scofield Custom Knives
Diamond Spear & Knife Company
Eagle Custom Knives
Idaho Custom Knives by Mike Mann
Jim Largent Custom Knives
Jim Sigg, Siggma Custom Knives
M & R Custom Knife Company
Mike Fuller maker of Tops Knives, Combat Tactical and Operational Knives
Norm's Custom Knives
Paul Bec Custom Knife Maker
Paul Charles Basch collector extraordinaire
T.L. Davis Wolf Track Custom Knives
TAT Knives
Voting Member of the Knife Makers Guild
World Famous Custom Knives by Barry & Dane Dawson
World Famous Custom Knives by Nolen
World World Famous, Steve Mackrill Custom Knives
Relay For Life
It was a pleasure meeting you at the 2012 Sportsman Show in Puyallup, WA. I would like to thank you and your company for the generous gifts that you donated to our Relay for Life fundraiser. Our fishing basket drawings were a huge success and would not have been possible with out your help. Our team was able to raise $3,600.00 and the money will directly benefit people with cancer and fund cancer research. You truely did a wonderful thing.
Thank you again,
Dena White
---
Hey Hunters
I have carried LeBeau's Honer™ on my hunting vest for years. There is nothing I have found that is so handy to use and only takes a minute to put an edge back on. I am a outfitter and skin and cape forty animals a fall.
Cool Tool
Larry Janzen
Forjay Trophy Hunts
---
From Afganistan
I am returning your email from earlier this year when I wrote a good review for the Hunter Honer after returning from a long trip to Cambodia and using it to maintain several machetes, axes…etc. I am now in Afghanistan and this is the 5th country I have brought it to and the same LeBeau's Honer™ is still doing a great job.
SGT David Lyon
3/8 H&S CO/EOD
UNIT 73275
---
To Bob of Hunter Honer
---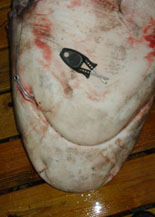 I am writing to commend you on a fine product that you have on the market. I am a hunter and fisherman and use LeBeau's Honer™ exclusively on my knives. I like the fact that the tool hones the steel and does not peel the steel, like lesser knife sharpeners. I am a shark fisherman, and as you might know, shark skin will dull an edge on a knife faster than fast. I use high quality knives that hold an edge very well, but when it comes to cutting up shark, well, every couple of minutes, I am sharpening my knife with my Hunter Honer that I've had for years. It works great. A couple licks on the rods and I'm shaving sharp once again.
Last month, I caught my largest shark ever. It was a 400lb bull shark. I was fishing alone. I managed to get it beached, after one and one half hours of fighting the huge fish. I dressed it out on the beach, and got help to load it in my boat. Back at the dock though, I had no help to offload it. I couldn't budge it. So, I cut it up right where it laid, using my trusty fish knife and my Hunter Honer. Without the Hunter Honer to keep the knife sharp, it would have been an impossible task. There's no cutting up a shark with a dull knife.
Oh, by the way, the meat was donated to a rescue mission to feed the homeless.
Keep Your Line Tight,
Darryl Dixon
---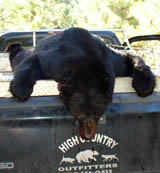 I can't put a long story on that bear, it was easy hunt, compared to last year, where we had to crawl about 200 yards in bushes about 6′ tall. I shot this one from revolver at 6-7 yards.
This time dogs had no problem finding and treeing that really nice bear. Single shot in a head behind the ear and bear was falling already dead from the tree. It was completely black, about 6'6″ and just above 350Lb 2 knives we used were sharpened by LeBeau's Honer™, we bought 2 for each ( 2 buddies), plus I used it while butchering the meat.
Really easy and works after a few strokes.
Igor
---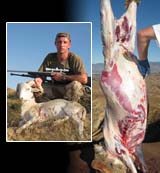 From the easy hunt of the Bear in the tree, I ventured out for a very difficult hunt for a Rock Mountain sheep with a bow. Not only was I successful in the hunt, but the Hunter Honer re-newed my arrow blades easily. Dressing out the butching of the ram was a breeze with the Hunter Honer keeping my blade super sharp. When I first bought LeBeau's Honer™ I was a little skeptical, but now recommend it to everyone I know.
Thank you for making such a simple and effective tool, highly satisfied customer.
Igor & Jamil
---
LeBeau's Honer™ in the Media
You may have seen it before if you have seen, listened or read any of the following:
---
T.V. Shows & Commercials:
The Outdoor Channel
Outdoor Life Channel
Justin Wolff with G. Loomis in St. Petersburg, Russia KNVN Channel 24
Angler West Show with Justin Wolff, Channel 12 KHSL
Outdoor Utah Today with Roger B Show Host & Co Host Bob Le Beau, Hunter Honer Inventor
The Outdoors with Doug Miller, Channel 2 KUTV, 2002 show
---
Radio Shows & Commercials
KGO San Francisco, Dr. Bill Wattenburg
KSL 1160, Cris Draper the Trail Master, #1 Outdoor Radio Show
Outdoor Utah with Roger B, 910 am
KALL with Roger B talking about Outdoor Sports and Shows
Backcountry Utah, with Brian Brinkerhoff KTKK, 630 am
California Sportsman with Sep Hendrickson
---
Publications & Magazines
Knives Illustrated, featured the Hunter Honer as the Best Sharpener on the market today.
Gun World
Blade Magazine
Fishing and Hunting News
Western Outdoor News
Bow and Arrow
Australian Shooters Magazine, featured for 3 years
Military Times
Marine Times
Navy Times
Army Times
Air Force Times
American Survival Guide, Hunter Honer places seventh as must have next to a knife, fire, shelter, signal, water and food.
and many more other publications
You're in good company with LeBeau's Honer™